On one of our  XenApp server(2008 R2 Fr en XenApp 6), it was not possible to connect by ICA.
In the server logs, we found out the following error :
Source:        MetaFrame
Event ID:      9026
Description:
Error 0 received while obtaining a license for a XenApp client connection. A grace license has been granted.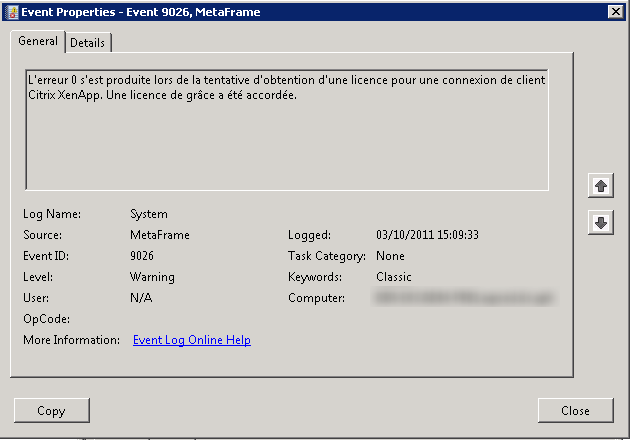 On the other hand, regarding the grace licence we don't have anything, which would confirm that the server could not accept any ICA connections (the licence server was reachable).
Based on that, we direct to our licence server ( (Windows 2003  sp2 Fr et en version 11.6.1 build 10007, uptade to 11.9 scheduled quickly for xenapp 6.5), and then after checking we noticed that the above server did not have the Host licence.
While looking at the licence server logs, we found out the following error :
Source de l'événement :             CITRIX_LicenseServer
ID de l'événement :       749
Description :
(8608) Client/server comm version mismatch (client: 1.3, server: 1.4). The client and server programs are running potentially incompatible versions of FLEXnet comm software.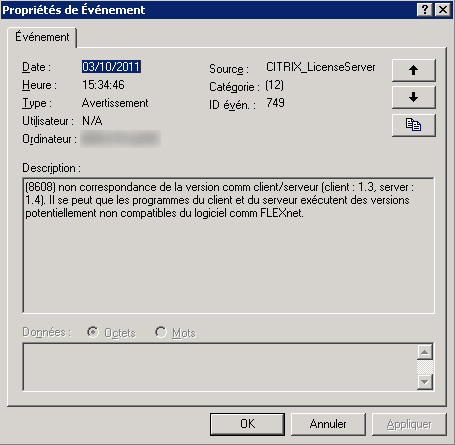 The only solution in our case, was to restart the service " systeme de licence Citrix", in order to have the server benefiting the Host licence.

The CTX111775 takes care of the error ID 749, and indicates that this error is not a stopper, in our case since the restart of the service "système de licence Citrix", the error disappeared and the server did obtain a Host licence.