Fini le bon vieux temps où l'on pouvait recréer le listener RDP via une GUI. Sous Windows 2012/2012 R2 il faut désormais passer par la case registre.
Histoire de ne pas faire d'import de registre le jour J, on s'est fait une GUI via un script Powershell (he oui encore du winform 🙂 ) afin de pouvoir recréer un listener RDP sous un serveur Windows 2012/2012 R2 (pour l'instant seul Windows 2012/2012 R2 sont concernés).
Une fois lancé le script vous permet de connaitre l'état du listener RDP, son port et si ce dernier répond bien à un socket TCP.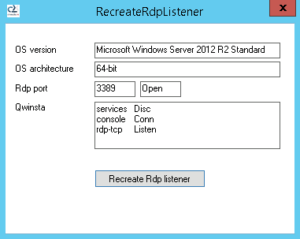 Via un qwinsta nous avons l'état du listener RDP (et plus si vous avez d'autres listeners)
Cliquez sur le bouton "Recreate Rdp listener" pour récréer le listener RDP (un backup du listener est réalisé dans le répertoire d'exécution du script)

Un popup vous demande la confirmation de l'action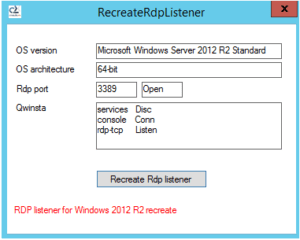 Un fois le listener recréé, vous obtenez un message de confirmation


RecreateRdpListener.rar
Si vous souhaitez passer par la case registre pour recréer un listener RDP 2012/2012R2 , la KB de dell "How to recreate or add an additional RDP Listener in Windows Server 2012 and 2012 R2" vous aidera dans votre démarche.