Sur un silo de serveurs (Xenapp 6.5 R06, windows 2008 r2 sp1 Us) les applications publiées sous IE (Internet Explorer 9) rencontraient l'erreur ci-dessous :
Internet Explorer has stopped working
A problem caused the program to stop working correctly. Please close the program
Dans le journal d'evenement "application" on retrouve à chaque crash l'Event ID : 1000
Log Name:      Application
Source:        Application Error
Event ID:      1000
Task Category: (100)
Level:         Error
Description:
Faulting application name: iexplore.exe, version: 8.0.7601.19058, time stamp: 0x563ce980
Faulting module name: PseudoServerInproc2.dll, version: 6.2.0.57, time stamp: 0x4e1c9864
Exception code: 0x80000003
Fault offset: 0x00101eaf
Faulting process id: 0x1990
Faulting application path: C:\Program Files (x86)\Internet Explorer\iexplore.exe
Faulting module path: C:\Program Files (x86)\Citrix\System32\PseudoServerInproc2.dll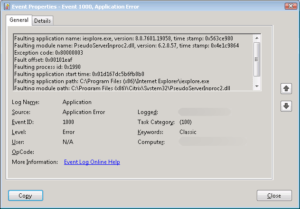 L'event étant on ne peut plus clair,on a donc  un problème avec la redirection FLASH et plus précisément avec la dll "PseudoServerInproc2.dll". Dans un premier temps il a fallu rétablir le service asap c'est pourquoi (après quelques recherches) nous avons supprimé la clé ci-dessous (pas besoin de reboot pour la prise en compte).
HKEY_LOCAL_MACHINE\SOFTWARE\Wow6432Node\Citrix\CtxHook\AppInit_Dlls\
HDXMediaStreamForFlash\iexplore.exe
Une fois la clé supprimée les utilisateurs n'ont plus rencontré de crash IE, cependant ça reste la solution "provisoire", dès que possible on regardera du côté de la CTX141429 .

Cette CTX141429 devrait résoudre notre problème 😉