Au détour d'un troubleshooting XenApp XA 6.5 (US Sp1)  nous sommes tombés sur l'erreur (qui polluait le journal application) :
Log Name:      Application
Source:        Microsoft-Windows-PerfOS
Event ID:      2011
Level:         Error
Description:
Unable to collect System Pagefile performance data. The first four bytes (DWORD) of the Data section contains the status code.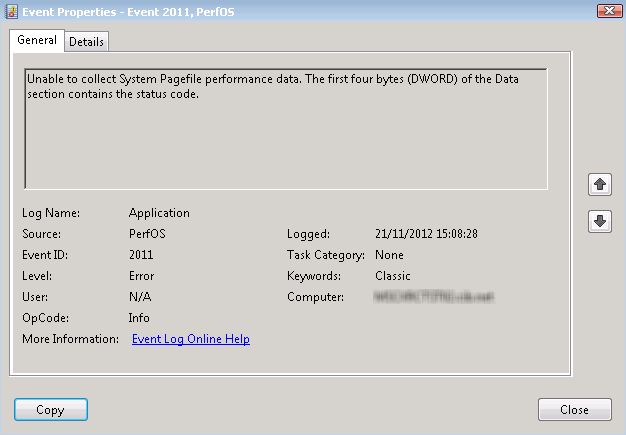 A la lecture de cet event nous étions partis pour exécuter la commande "lodctr /R", mais vu que les compteurs perfmon ne présentaient aucun problème il était inutile de reconstruire les compteurs perfom.
La résolution était on ne peut plus simple, nous n'avions pas sur les serveurs présentant l'erreur PerfOS, de fichier d'échange de configuré. Une fois le fichier d'échange configuré nous n'avons plus rencontré l'erreur PerfOs.