Au sein d'une infra comprenant notamment des StoreFront 3.0 (W2K12 US et issus d'une migration StoreFront 2.5 vers 3.0) nos utilisateurs rencontraient l'erreur ci-dessous lors de l'accès à un magasin spécifique.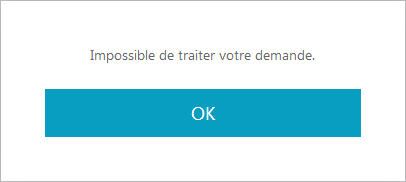 Dans un prochain billet nous traiterons la modification de ce type de pop-up 🙂
En regardant les logs des StoreFront, nous avons constaté un nombre conséquent d'évents Id 17.
Log Name:      Citrix Delivery Services
Source:        Citrix Receiver for Web
Event ID:      17
Task Category: (3002)
Level:         Error
Description:
Failed to run discovery
Citrix.Web.DeliveryServicesProxy.ConfigLoader.DiscoveryServiceException, ReceiverWebConfigLoader, Version=3.0.0.0, Culture=neutral, PublicKeyToken=null
An error occured while contacting the Discovery Service
at Citrix.Web.DeliveryServicesProxy.ConfigLoader.Discovery.AppendConfigurationFromDiscoveryService(WebReceiverConfigSection section)
at Citrix.Web.DeliveryServicesProxy.ConfigLoader.Discovery.RunDiscovery(WebReceiverConfigSection configSection)
at Citrix.Web.Proxy.Filters.DiscoveryComplete.OnAuthorization(AuthorizationContext filterContext)
System.Net.WebException, System, Version=4.0.0.0, Culture=neutral, PublicKeyToken=b77a5c561934e089
The underlying connection was closed: An unexpected error occurred on a send.
Url: https://127.0.0.1/Citrix/VotreStore/discovery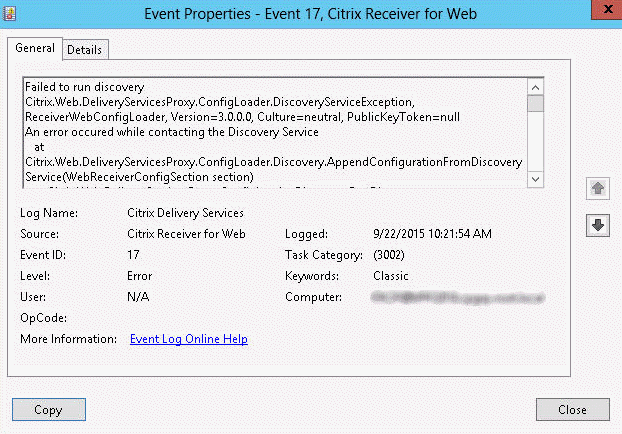 Le problème ne se présentant que sur un store spécifique nous avons comparé les fichiers web.config (situés dans VotreStoreWEB) entre un magasin sans l'erreur et le magasin présentant l'erreur, il s'avère que le problème se situait au niveau du loopback qui était à on sur le magasin présentant le problème. Une fois le loopback passé à off le magasin était à nouveau disponible.
<communication attempts="2″ timeout="00:01:00″ loopback="Off"
La CTX133904 (mise à jour le 18/09/2015) traite ce type de problème.
Ce billet nous ramène à nos sources 🙂 .