Lors d'un POC nous avons installé WEM 4.06 afin de montrer tous les avantages de WEM dans un environnement de type bureau publié (publish desktop), lors de la création de la base WEM nous avons rencontré l'erreur "Database creation error".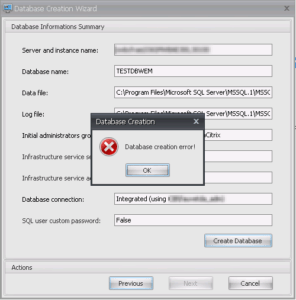 Ca commence pas bien notre POC 🙂
L'avantage de WEM est que tout est logué durant l'installation, direction le fichier de log situé dans C:\Program Files (x86)\Norskale\Norskale Infrastructure Services\ Citrix WEM Database Management Utility Debug Log.log.
La lecture du fichier de log nous renseigne rapidement sur la cause du problème :
Exception -> DbCreateRequestExecutor.
() : System.Exception: SqlDatabaseHelper.[1]() connection Error : 5133 | Directory lookup for the file "C:\Program Files\Microsoft SQL Server\MSSQL.1\MSSQL\Data\TESTDBWEM_Data.mdf" failed with the operating system error 3(The system cannot find the path….
En échangeant avec les DBAs on comprend que la couche SQL est installée dans un chemin spécifique, une fois le chemin d'installation dument rempli dans le wizard WEM, l'install se poursuit avant que nous rencontrions une nouvelle erreur "Database creation error", et encore cette fois le fichier de log WEM nous donne l'origine du problème.
There is already a master key in the database. Please drop it before performing this statement.
Pour corriger cette erreur nous avons demandé aux collègues DBAs de passer la requête ci-dessous :
USE VotreBaseWEM;
DROP MASTER KEY;
GO
Une fois la requête executée l'installation s'est poursuivie sans problème.
On vous conseille aussi de jetter un oeil sur la CTX228982  https://support.citrix.com/article/CTX228982/ au cas ou 😉 .